Flat Presser And Oven Machine
Product Detail
Product Tags
Belt TYPE CONTINUOUS COMPOSITE PLATE PRODUCTION LINE IS USED TO PRODUCE CONTINUOUS FIBER REINFORCED THERMOPLASTIC UNIDIRECTIONAL PREPREG BELT LAMINATE, SUITABLE FOR MASS PRODUCTION OF THERMOPLASTIC COMPOSITE MATERIAL COMPOSITE processing, can be used for a variety of fiber/plastic resin combination. Thermoplastic unidirectional prepreg laminate; It is a solid plate laminated with continuous fiber reinforced thermoplastic unidirectional prepreg belt. The usual color is white and black. Mainly used in continuous fiber reinforced thermoplastic lightweight solutions such as thermoplastic composite honeycomb panels; Truck skirt board; Electric vehicle battery cover; Container lining board; Train sheds, car boards and so on
CFRT sheet is a thermoplastic composite sheet made of CFRT one-way cloth in accordance with 0°,45°,-45°,90° and one or more combinations after hot and cold pressing. It can also be combined with other high-performance core materials, such as honeycomb board, polyurethane foam, balsa balsa, solid wood compressed board, etc., or with non-woven materials to form a new sandwich composite board.
Advantages: Continuous fiber provides ultra-high strength and stiffness; Excellent interlaminar shear performance, high impact strength; The layering mode, thickness, reinforcing material type and fiber volume content of the sheet can be customized to meet the needs of customers in different industries; Product surface without fabric grain; Corrosion resistance, mildew resistance, easy to clean, not affected by chemical cleaners; Weldable, easy to cut, install and repair; Can be hot pressing molding, forming cycle is short; It can partially replace thermosetting glass reinforced plastic, aluminum and stainless steel sheet, and is suitable for lightweight transportation; Green environmental protection, recyclable, sustainable development.
Model

SPX1700

SPX2300

SPX3000

SPX3400

Belt width(mm)

1700

2300

3000

3400

Effective width(mm)

800-1550

1450-2000

2000-2750

2300-3050

Heating length(mm) 

1500-3000

1500-3000

2500-4000

2500-4000

Heating mode

Electrical heating

Electrical heating

Oil heating

Electrical heating

Oil heating

Electrical heating

Oil heating
Normal press machine  (Products weight:0-1600 GSM)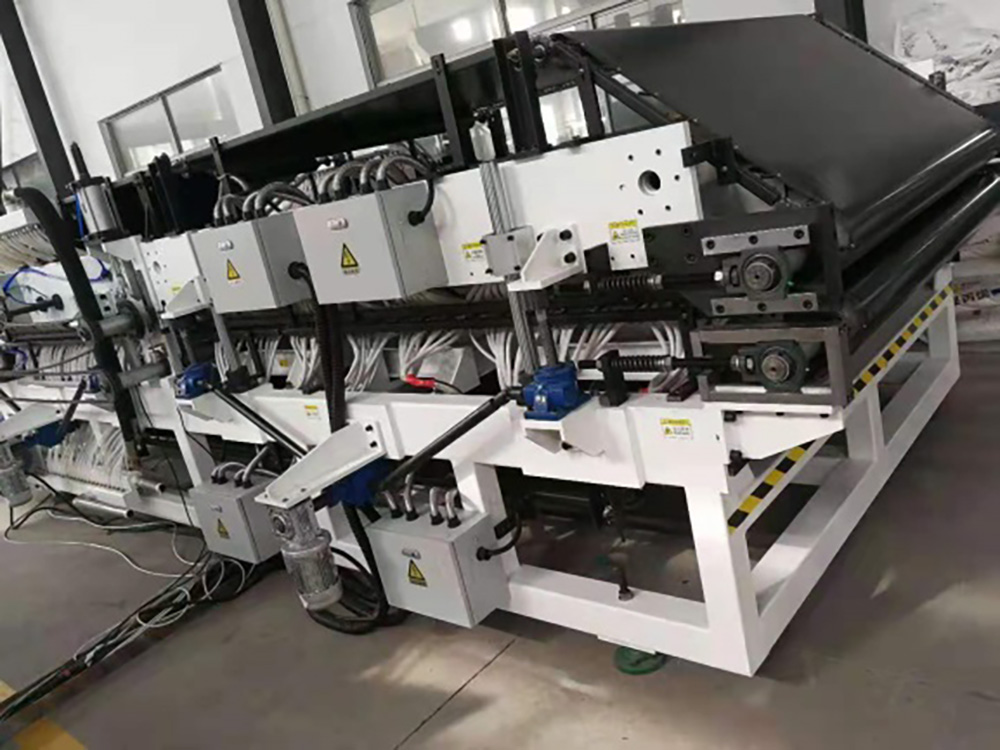 High press machine (Products weight: 1600-2200 GSM)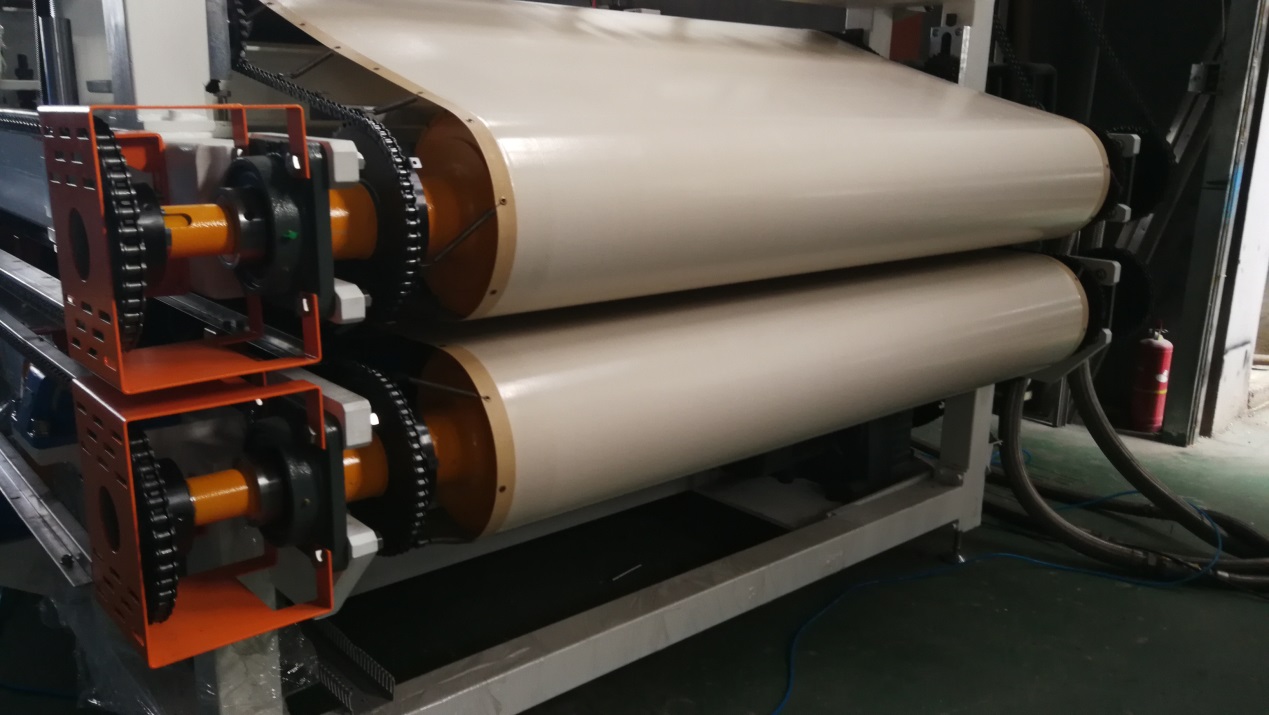 This automatic line can flexibly process parcel and shelf products to supply for various kinds of vehicle models. It is managed by PLC inputting.
1. The automatic material loading station contains dual loading sections. It is dependent on KEC needlepunch devices and vacuum cups to execute pick-and-place tasks to suit different kinds of materials. Automatic material switching is conducive to enhance efficiency.
2. Contact heater provides high efficiency and accurate positioning of materials, which does great help to achieve fast heating and transporting of materials.
3. The conveyor mechanismruns with rotating Teflon belts up and down to avoid material sticking onto the upper and lower heating plates, which keeps clean and gets stains easily removed.
4. The special frame hydraulic press configured by a large working platform is matched with a speedy mold clamping system so that the mold can be quickly exchanged and secured by one button-push.
5. After the rolling fabrics are loaded, they can be cut and transported to the mouldingpress automatically. Meanwhile, defective material detecting system can automatically cut off the faulted part of the rolls and send it to the waste box.
6. Remote control, smart factory management and production video monitoring can be extensively achieved readily based on this line.
---
Previous:
Fiber Glass Chopped Belt Presser Machine
---
Write your message here and send it to us